About JM
Jerusalem Ministry is a Christian nonprofit organization that seeks to be God's hands and feet to the fatherless – to the world's orphaned and abandoned children. JM is a young NGO based in Seoul, Korea and has begun its activities focused on its local community (its Jerusalem). With continued success and provision, JM aims to eventually spread its influence to the surrounding Asian nations (its Judea and Samaria) and to the ends of the earth (Acts 1:8). JM trains, equips, and holds accountable, committed Christian volunteers for service at the many children's homes (orphanages) in Seoul, Korea. All volunteers give a minimum six months commitment and serve mainly as teachers of English, Korean, music, and art.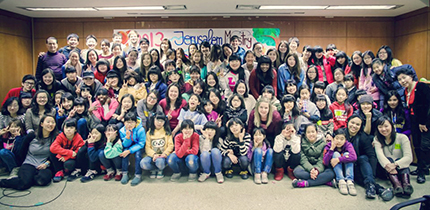 History
JM began in May, 2006 as an independent orphanage volunteer ministry. Initially an informal gathering of service-minded, mostly international professionals and students, the group began developing contacts with the many children's homes in Seoul and realizing the great need for long-term, committed relationships. Through continued Home visits and meetings with orphanage staff, a general theme of foreigner distrust, stemming from the irresponsible service of past volunteers, became glaringly obvious. As a result, many willing and capable foreigners were being turned away without consideration. There existed a need for clearer communication between the international community and the orphanages of Seoul.
John-Michael Becker is a full-time missionary at Geon Christian Children's Home in Seoul, serving the spiritual and educational needs of its children. Mr. Becker founded JM in response to the need for accountability and instruction among the international volunteers. In December, 2007, JM was registered as a non-governmental organization with the Korean government. Today, JM has grown to include over twenty-five (and growing), long-term volunteers in eight orphanages in the Seoul area. JM is continuing to establish itself in this city as a legitimate and trustworthy partner dedicated to sharing God's love through accountable and faithful relationships.
Our Purpose
JM is committed to expressing God's earnest heart for abandoned children and broken families as articulated in the bible (Psalm 68:5-6 and Isaiah 61:1-3): A father to the fatherless, a defender of widows, is God in his holy dwelling. God sets the lonely in families… He has sent me to bind up the broken hearted… to bestow on them a crown of beauty instead of ashes… They will be called oaks of righteousness, a planting of the Lord for the display of his splendor.
Toward this aim, JM has two main purposes:
To build committed and loving relationships with the underprivileged children of Seoul through the avenue of education.
To train and equip volunteers for effective service, and hold them accountable both to their commitment to the children, and to their relationship with God.
The Future
Upon gaining NGO status, JM has experienced rapid growth in both the number of volunteers and the scope of programs being developed. It is hoped that in the near future, once JM has establish its reputation as a faithful steward of God's love and provision in this city, JM's activities will cross borders into neighboring China and North Korea. Although JM will continue to provide an avenue for community service among the foreign residents of Seoul, JM's ultimate goal is to build orphanages and adoption agencies in the neediest of areas. JM sees its current period of growth and service in Seoul as indispensable preparation for its future evangelical and social welfare work in the neighboring nations.