Whether you're in Seoul and can give an hour of your time to study with a child, or you're overseas with a desire to help out in someway, we sincerely thank God and all of you for your support.
For Volunteer Teachers
If you are currently living in the Seoul area and are planning to remain for at least the next six months, please don't hesitate to contact JM about volunteer opportunities.
For Churches
There are many ways to partner with JM at your home church. We will work with you to spread awareness of the child welfare situation in Korea, mobilize prayer supporters, and plan a mission trip to experience JM for yourself.
Fundraising
Help JM raise funds to continue its work in Seoul and abroad.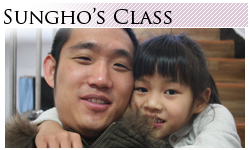 I first visited the orphanage simply out of curiosity, but it didn't take long before I fell in love with the kids. I had the opportunity to teach one girl with a reading disability. Now I teach two girls whose reading levels are too far below their grade level. I find that I'm a teacher who is instructing but also learning at the same time... how to show love and patience, and how to deal with the personalities of children. What pleases me the most is when they also show their love to me. I think that's the biggest reason bringing me back every week.